V/A - Trance Culture by Light @ Macky Mad House Records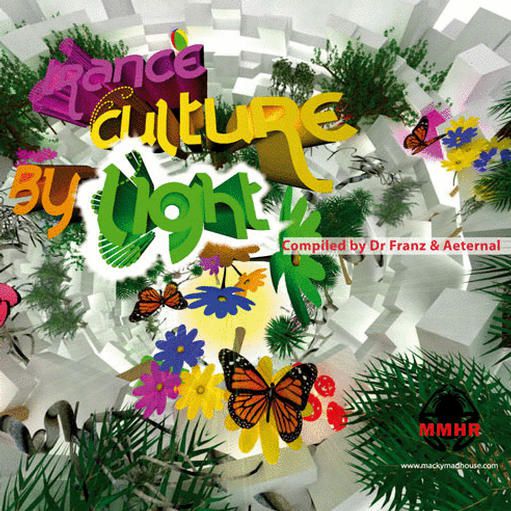 Compiled by Dr. Franz and Aeternal
This compilation is called Trance Culture; by Light to play a word game with 'by Night' which was the label's previous outing just over a month ago.

The difference between the two CDs is self evident, whereas the previous one contained night tunes, this one, even without loosing its psychedelic power and speed and its being underground, contains tunes that are well playable in the first light or in the morning.

The starring once again are well known artists and emergent rising stars like Wizack Twizack whose tune closes the compi. Electrypnose on versus with Acryam who's track starts this rollercoaster of emotions.

Two amazing tunes from Sismic which is Mmhr's warhorse and the one behind the graphic project of both Night and Light Vas. M-Theory gives us some more reasons for smiling with a really fun morning tune and Mexican extraordinaire Sharigrama delights us with his interpretation f morning psytrance.

A touch different from the 'norm' is Skyhighatrist's tune, very bouncy and very psychedelic too. Oblivion is the project of one of the most sought after DJs in Italy; Lunatic and his companion Shivavoice they also gift us of a spectacular morning track.

Going ahead we find Cosmiculture which is a New Caledonian project of label co-owner Enzo aka Aeternal which proposes something very jumpy and morning like. This closes the Trance Culture project by the new Mmhr and brings the label to new heights.

We at Mmhr are already working at our next two outingsso lend us your ears folks.let's dance!

Style: Psytrance

www.myspace.com/

mackymadhouserecords 1. Standby for action
ELECTRYPNOSE, ACYRAM
2. Brain Sports
SISMIC
3. Totally Quackers
SKYHIGHATRIST
4. The flying Dutchman
SHARIGRAMA
5. Little Crush
M-THEORY
6. Fly, to go beyond
COSMICULTURE
7. Lunar
OBLIVION
8. Omniverse
SISMIC
9. Turyatita
WIZACK TWIZACK